Hey I'm back, it's February and the garden is safely buried under at least a foot of snow, the sidewalks should only be tackled with ice skates, so that brings me here.
I have wanted to write about The Minneapolis Institute of Arts since I began this blog endeavor for the obvious reason, it is my favorite and most consistent "Third Place". I am a volunteer docent and I'm at the MIA at least once a week if not several times a week. So why the hesitation? Why not shout it from the roof tops? I realize that it means so much to me that I don't want to get it wrong in the description. A year into this and I have come around again to the idea that its better to share imperfectly than not at all, so here goes.
My experience at the MIA is a religious one, in some ways more so than my Unitarian/Universalist weekly routines which sometimes fall short of my "religious" expectations and aspirations. What am I blathering on about? When I am at the museum, either giving a tour, preparing for one, or visiting with fellow docents I feel like I am tapping into my highest self. I am transformed by the mental stimulation and I feel connected and closer to the sea of humanity through the vehicle of art. I lose myself, rediscover myself and expand myself all at once. I feel an openness, a sense of hope and an ease of knowing what to do with my spirit. This is not a state I get to readily in life, so you can see why I might tread lightly on this sacred territory.
The following is a reprinted version of an article I wrote for the MIA docent quarterly publication. It captures the spirit of the "Third Place" of museums for myself and possibly for you. Enjoy. The exhibit closes on February 7th so there is still time to view it!
As docents, if we caste the right spell, priestess and spectators alike will be transformed by the experience.
Consulting the Oracle, 1884, is on display at the Montreal Museum of Fine Arts and was my inspiration for the above comment.


Actual Size (W x H): 198cm x 119cm

[ 78.01" x 46.89" ]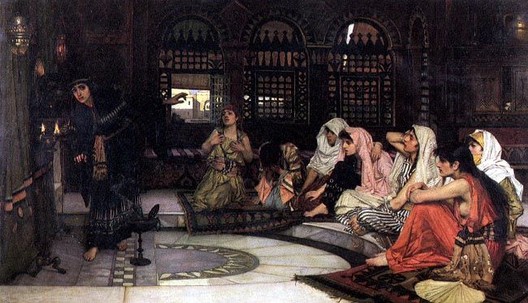 A sumptuous exhibit of JW Waterhouse, (1849-1917) aptly called The Enchanted Garden is on view until February 7th. I was exhilarated by this exhibit for many reasons. First of all, in October William Holman Hunt was still fresh in my memory and I enjoyed the rare thrill of connoisseurship that sometimes comes as a result of being a docent.

Also, in the northern climes we seek refuge and sanctuary in our museums when it gets cold outside. Our gardens die back, but our spirits do not, they live on in that internal world of contemplation and reflection and imagination. I may curl up by the fire with books, but also need and crave the communal- so I venture out and hope that the external world will rekindle that inner fragile spark.

Waterhouse's exquisitely painted large canvases of ancient narratives did just that, they were breathtaking and were marvelously set off by full length black velvet curtains and large cushioned benches. The theme of Garden Enchantment was enhanced with the use of lighting which created the illusion of a magical stream running through the exhibit. My guess is Waterhouse would have approved of these enhancements and theatrics, he was fascinated by the new developments of his day in archeology, anthropology and comparative mythology. He had a progressive interest in the lives of ordinary people with an emphasis on sensuous delight.

Finally I loved this exhibit because it features one individual. It is such a treat to see an artist's development and preoccupations. Waterhouse's sketchbooks are full of insights, especially when we see his early stages of an idea and then the later developed and often very different final versions. It was particularly fun to see Waterhouse's sequence of paintings on 'The Lady of Shalott'. I hope you will transport yourself to Montreal before this exhibit leaves on February 7th, you won't regret it.